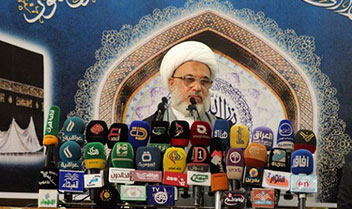 20/11/15
The Supreme Religious Authority renews its call to the necessity of uniting all components of the Iraqi people and the employment of all potential in the war against terrorist
Important Contents of the Sermon
Text of the Sermon
One of the most important purposes of this Hussayni Ziyarat is to maintain the principles and teachings of Islam from which Imam Al-Hussayn (peace be upon him), his family and companions were martyred.
The visitors have to take advantage of these days and to make out of their blessed journey an opportunity to learn more about their religion and to show more sense of morality and to pray on time.
There is no doubt that the fateful battle in these days against the gangs of ISIS reflects those finest values, particularly from out beloved ones the fighters stationed in the fronts.
The people who were able to defy terrorism, cars bombs, and explosives all these years and who have achieved victory in many battles, is able to perpetuate the momentum of victories in battle against ISIS gangs to reach the final victory, God willing.
It is hoped from the visitors and the owners of Hussayni processions - May God reward them- to be keen so all their services are reflective of the morals of Ahl al-Bayt (peace be upon them).
This blessed act of feeding the visitors can turn to blameworthy act if combined with extravagance and waste. We also emphasize on the good cohabitation between visitors without scrambling.
It is the destiny of Iraqis to be at the forefront of those who fight those terrorists and contribute in their elimination, and all praise to God, they have achieved important victories in this way.
What happened lately in Tuz Khurmatu of clashes and acts of violence is a serious indicator that calls of the wise people from all parties to take the necessary measures to not let it be repeated.